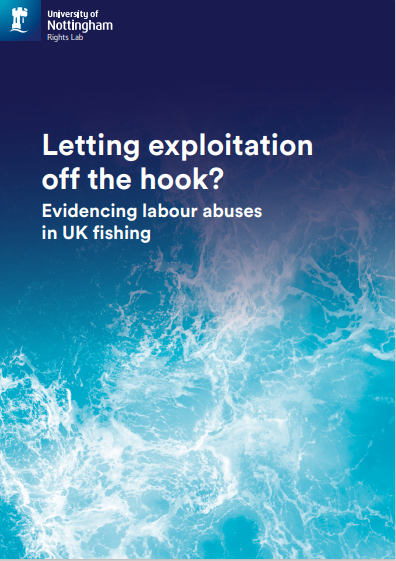 A new report has been published by the University of Nottingham Rights Lab, on working conditions across the UK fishing fleet. The report Letting exploitation off the hook? Evidencing labour abuses in UK fishing report focuses on all crew working in the UK fishing fleet, including the local workforce and those from overseas, share fishers, and contracted employees.
Key findings include:
35% of fishers reported experiencing regular physical violence – with some workers recounting being racially abused or experiencing extreme sexual violence.
The average salary for migrant fishers working in the UK was £3.51 per hour – well below the National Minimum Wage in the UK at £9.50 an hour.
One participant, a UK national, told researchers: "I heard a vessel owner say. No – he proudly declared: I can get 2-3 foreign crew for the price of one of you local lads."
19% of participants reported conditions comparable to forced labour with an additional 48% reporting potential cases.
Due to legal loopholes, non-European migrants with transit visas have no legal authority to "enter" the UK without permission when returning to port and are forced to live on board the vessels.
Vessel owners and recruitment agencies are issuing work agreements that are non-compliant with UK regulation, causing migrant fishers to be unduly treated as violators of UK immigration law even when other parties are responsible for the illegal nature of their work.
More than 60% of fishers (including UK nationals) said they would never report a grievance out of fear of blacklisting – the practice of restricting re-employment opportunities for fishers.
Download May 2022 Report

>