This Seafish report 2021 Employment in the UK Fishing Fleet presents a snapshot of employment in the UK fishing fleet.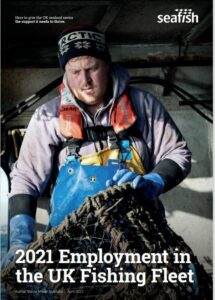 In the 2021 Seafish survey of the UK fishing fleet, researchers collected employment and demographic data on a sample of 268 vessels and 788 workers across the UK catching sector.
Overall, most workers in the sample (64%) were from the UK. Most non-UK workers were from the Philippines, Ghana and Latvia and employed as deckhands. They were mainly employed on over 10m demersal trawlers and Nephrops trawlers registered in Scotland and Northern Ireland.  The average age of employees sampled was 40. ,
The report identified that 55% of deckhands in the vessels surveyed were of non-UK origin, the majority from Ghana or the Philippines. 10% of the 372 respondents said that crewing issues had already affected business performance in the year prior to being surveyed. Two fleet segments in particular reported the largest crewing concerns, with 25% of demersal under-10m trawler owners and 23% of Nephrops vessel owners surveyed reporting having already experienced negative impacts.
Read the full report

>