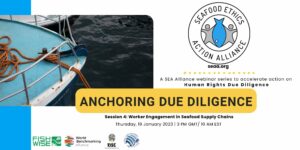 The SEA Alliance has created the Anchoring Due Diligence six-part Webinar Series to provide support and guidance for seafood businesses. This is an integral part of the SEA Alliance aim to increase alignment on effective due diligence processes, and increase implementation of impactful approaches to address human rights risks.
The webinars are being facilitated by FishWise, and are being run in partnership with the World Benchmarking Alliance and the Global Tuna Alliance.
Please register for the sixth and final webinar in the series.
The fifth session is taking place on Thursday 20 April 2023 at 3pm BST. This webinar will conclude our series to put the knowledge gained into action. It will focus on how to evaluate responsible purchasing practices and incentivize positive change. This will include: how to gain support and buy in from other teams; how to set shared performance indicators and create model contract agreements; and ensure transparency throughout the supply chain.
We encourage the widespread sharing of this opportunity internally with management, leadership and procurement teams to build awareness on these core topics and to generate internal champions that can support the business in operationalising HRDD. 
Why you should take part
The six webinars will cover key aspects of HRDD in seafood supply chains. to help seafood businesses identify and act upon actual and potential human rights risks for workers in their operations and supply chains.
These training webinars will focus on human rights due diligence processes and key salient areas of risk that align with, and have been informed by, a survey of SEA Alliance member companies. There will also be the option for these webinars to be supported by follow up interactive 1:1, or small group sessions, as requested, to reinforce the messages and activities.
Each webinar will be one hour in length and are designed to:
Inform participants about foundational HRDD concepts, best practices, and alignment against industry KPIs;

Point out special considerations for specific supply chain segments;

Link to key existing tools that can assist member companies in undertaking HRDD, (e.g. the SEA Alliance fishery risk assessment, PAS 1550 etc.); and

Summarise and provide recommended actions companies can take to drive continuous improvement in their supply chains.
To find out more about our work on Human Rights Due Diligence look at our web page.